Flooring for open plan kitchens
If you have an open plan kitchen and lounge, or an open dining room, you can have separated sections of flooring types, which is particularly advisable if you have carpeting. However, for a more cohesive look, laminate mimics the look of wood, as does some luxury vinyl. This means you can have an attractive, overall wood look throughout the room.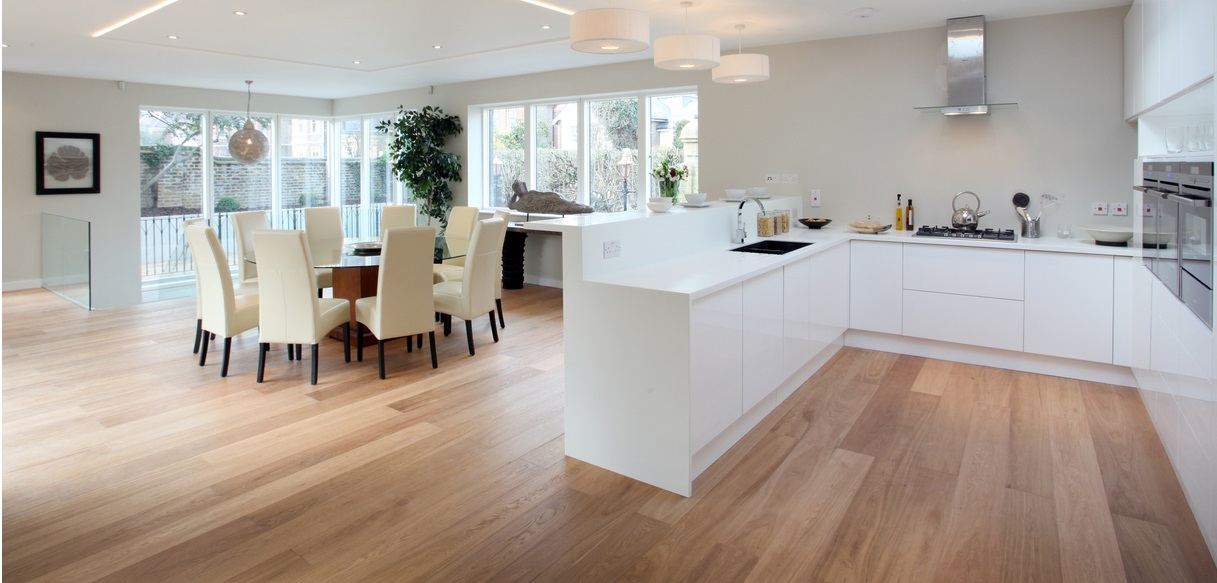 What is the best flooring for a busy kitchen?
For kitchens that have a lot of traffic, it makes sense to think about durability. Most flooring doesn't just 'wear out' from being walked on, at least not for many years. It's still worth taking into consideration what will be a long lasting flooring type. Wood and stone will be with you for many years – stone in particular can last generations! But in this case, 'busy' can also mean 'messy'. Take this into consideration when thinking about maintenance and keeping floors clean.
Which kitchen flooring is best for keeping clean?
Most flooring designed for kitchens will be easy to clean, but there are things to look out for. Vinyl flooring is perhaps one of the best choices for keeping clean, as it's extremely waterproof for thorough washing. Tiling is also washable but, watch out for dirt sticking to grouting between the tiles. Laminate and composite flooring also wipe clean. However, always check with manufacturer's instructions on the use of chemicals and detergents - there might be a risk of damage to surfaces with harsher cleaning products.
If this has helped you find the best flooring for your home or building project, we have more helpful guides at Trade Corner.
Disclaimer: The information contained on this page is intended as an overall introduction and is not intended as specific advice from a qualified professional. Travis Perkins aims to avoid, but accepts no liability, in the case that any information stated is out of date.