Reading time: 4 minutes
There's something to be said for experiencing more natural light and fresh air, while having all the mod cons of home. Bi-fold doors can open the home to this in a very real, literal way. When part of an overall patio or garden project, like planning a space for a little alfresco dining, this can be incredibly effective for mindfulness. Fitting decking and stylish patio doors help to create a pleasing outdoor space.
For this reason, the addition of bi-folding doors expands the confines of a home to the open, airy garden or patio. Bi-fold doors are great alternatives to standard glazed doors and windows, allowing you to open up your indoor space to the outside.

How does a bi-fold door work?
When considering how bi-fold doors open, it's very much like a concertina effect. Each panel of the door folds back against the other, gliding on runners to ensure a smooth and easy motion.
External bi-folding doors over standard sliding doors can allow for a wider opening of a doorway, opening up a room much more! Sliding exterior doors can have some limitations; they tend to only allow for the aperture of the doorway to open as wide as the width of the supporting panel. Bi-folding French doors open out wide in the traditional way a single or double door would.

Types of folding doors
As there are many varieties of doors, from hardwood to steel doors, there are also variations of bi-folding doors to choose from to suit the style of your home.
If you have traditional tastes or crave natural tones, wooden bi-folds offer elegance and practicality. Available in different looks, such as unfinished bi-fold doors, you can create a seamless blend of the traditional and modern. Having exposed timber-style door frames means you won't lose the overall personality of your property either.
The benefit of unfinished frames is that you can treat them to suit your tastes. Whether that's using varnish, woodseal or paint, you can make your bi-fold doors match your home perfectly.
For a more contemporary appearance, aluminium bi-fold doors can give a refreshing new look. Sharp finishes and elegant door designs elevate the home and garden or patio area into a completely rejuvenated living space. Aluminium folding doors also offer long-lasting durability that's easy to maintain.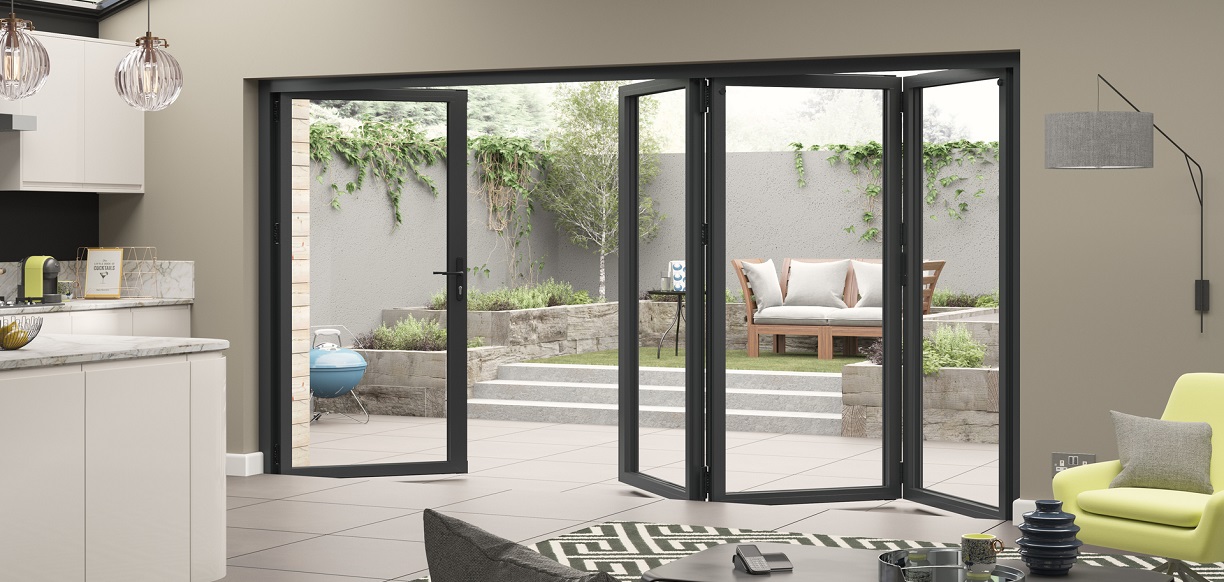 What are the standard sizes of bi-fold doors?
When looking into installing a folding patio door, sizing is of course essential. Most bi-fold doors are available in standard sizing, so it's worth taking these into consideration when working out where the door will go, and if you have room for two, three, four (or more!) panels, or leaves, when planning your fitting and installation. However, always check the specific details of the product you wish to fit before beginning work.
External bi-fold door sizes are set at 2,090mm tall, with some variation up to around 2,100mm tall; so not much bigger than a standard door. Although, it's the width that dictates what you'll be able to fit logically within a doorway aperture.
With two-panel folding doors, standard sizing will be around 1790mm wide, with the number of leaves increasing these measurements to around 2090mm for three leaves, and up to approximately 3990mm for four leaf folding doors. This gives a lot of scope for different property sizes, so you'll be able to find the perfect fit for any room.
For more ideas and advice about doors, gardens & landscaping, flooring and more come back again soon for more helpful tips!
Disclaimer: The information contained on this page is intended as an overall introduction and is not intended as specific advice from a qualified professional. Travis Perkins aims to avoid, but accepts no liability, in the case that any information stated is out of date.