Reading time: 4 minutes
What is a damp proof course?
Damp proof course, or DPC, has evolved over the years, with early examples including layered slate, hessian and bitumen as the primary material. Today's damp proof course is often available in polythene rolls to keep things simple and convenient.
It's usually installed just above ground level, and often with a damp proof membrane, ensuring better resistance to moisture. A DPC is a way of coating a layer of brickwork, and other masonry, to prevent moisture from rising into the wall and causing damage through capillary action.
What is capillary action?
Capillary action, which can also be referred to as 'wicking', is when water is drawn through narrow channels, often upwards. In construction, this can be a problem because of the tiny holes in bricks and blocks, which make masonry and concrete porous. This allows for moisture to travel up into walls, paving way to damage.

How long should a damp proof course last?
Ideally, a DPC should last for 30 years at least, however there are some situations that can cause problems before then. Poorly installed damp proof course, or accidental damage to the property, may also have a negative effect.
Can I install a new damp proof course?
If there are problems with an existing damp proof course, there is a DIY method of correcting this. However, it's always a good idea to speak to a building professional when embarking on any structural maintenance or repairs.
To help, here's a brief guide on DPC repair:

When sorting the problem, firstly identify the wall(s) affected by damp, and check that a damp proof course repair is needed.

Damp proof course repair is usually a silicone-based solution, which works by drawing the moisture out from the masonry.

The chemical damp proofing is done by drilling a series of small holes along the base of the damp wall. This should be at the level of the original damp proofing, or around 150mm from floor level, and installed into the mortar joint – do not drill directly into the brickwork.

The holes should also be drilled 110mm apart, and to a depth of 10-20mm. Once completed, you'll be ready to inject the DPC cream.

Always check the manufacturer's instructions for how long you should leave the cream to fill in effectively for best results.
What's the Difference Between Damp Proof Course and Membrane?
The principle of damp proof course and damp proof membrane is the same. They both act as a barrier to protect a property from damp, but in different ways. A DPC prevents moisture rising up through walls from the ground as a barrier. It's built into all masonry walls, and is usually available as rolls of tape for ease of installation.
A damp proof membrane (DPM) is wider than DPC. It's a polythene sheet that's made to cover wider surface areas than walls. It's laid under concrete slabs and blocks and can be used in building construction as well as other garden and landscaping projects. DPM is designed to prevent moisture from rising through the concrete before reaching masonry, or other materials such as timber.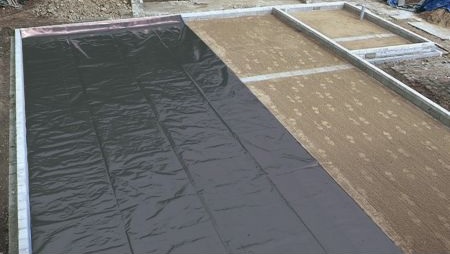 For more help and advice with construction projects and repairs, take a look at our other articles on brickwork, home improvements and more. You can also order damp proof membrane and other building supplies from us online.
Disclaimer: The information contained on this page is intended as an overall introduction and is not intended as specific advice from a qualified professional. Travis Perkins aims to avoid, but accepts no liability, in the case that any information stated is out of date. Travis Perkins is not responsible for the content of external websites.