Other security door hardware and locks
Locks are the first thing we think of when it comes to door security, however other hardware can be just as essential to keep properties safe and secure. For this reason, fitting further equipment such as a door closer will improve the security of a building.
Door closers and panic hardware
In areas that see a lot of footfall, such as corridors and entranceways, it's easy to pass through a door and leave it open. Door closers make sure the door is always closed, deterring opportunistic thieves. Door closers are also essential for helping to ensure safety standards are met when keeping fire doors closed.
For doorways that are designated for emergency exits, especially fire escapes, panic bolts and bars help to keep the door closed from the outside. Panic bolts and latches are designed to be easily opened by being shoved at waist height to leave the building quickly.
Padlocks, chains and more
There are many different types of security fixtures and locks that fulfil different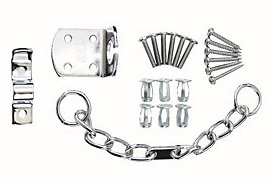 requirements, aside from keeping front doors securely shut.
Mostly designed for outdoor use, such as sheds, garden storage and gates, the padlock is a commonly used and versatile solution. Available options are key or combination padlocks, or heavy-duty padlocks can really slow down someone attempting to break in.
Security door chains give residents more confidence when answering the door to strangers, allowing it to open a little way to talk through. While it's not secure enough when used in isolation, door chains are a good idea for vulnerable and elderly people in particular.
For anyone renting a property for breaks and holidays, the key safe is incredibly useful. These are simply secured to a safe place outside, the key is placed inside, and the safe is locked with a combination. This gives an agreed party access to building through a code, removing the need to meet with the owner or guardian.
Order door locks for a large property project, mortice locks and keypads for commercial properties, or devices to lock up your shed or gate. You'll find each of these locks and security devices available online now.
Disclaimer: The information contained on this page is intended as an overall introduction and is not intended as specific advice from a qualified professional. Travis Perkins aims to avoid, but accepts no liability, in the case that any information stated is out of date.