Reading time: 4 minutes

What are the different types of wooden fence panels?
Overlap Panel
When choosing garden fencing many typically opt for the economical overlap panel, or waney as it's also known, which is the most common type in the UK. The basic overlap fence is made with horizontally-fixed waney-edge boards. This type of panel has been sawn to include the bark of the tree, so has a wavy edge rather than a straight edge - giving a traditional, rustic appearance.
For a small premium you can buy overlap panels that have straight-edge boards on which the raw edge has been sawn off. This gives the panel a uniform and contemporary appearance.

Closeboard fencing
Closeboard fence panels are a robust step up from conventional overlap fencing. They use thicker feather edge boards that are mounted vertically to supporting horizontal rails on the back. Each board overlaps the next, for strength and privacy, and the panel is often framed around its perimeter. Feather edge boards are also available individually, so you can easily replace damaged panels for new. The feather edge name refers to each board having a thickness that tapers down, typically from 10 - 13mm to 6 - 8mm. This tapering is created using a traditional method of splitting thicker boards of timber diagonally across their cross-section to give two fence boards.
Slatted garden fence panels
These modern Slatted fence panels are a contemporary option for updating any garden or outdoor space. This type of fence panelling features wooden slats placed horizontally across the frame with a gap between each, making it suitable for screening or partitioning specific areas. There's a double slatted option too that will give you more privacy. The main benefit of the slats is that heavy winds are more likely to pass through the fence, meaning less movement and potential damage - improving longevity.
Decorative garden fence panels
In small gardens, particularly where privacy isn't an important factor, there are plenty of options that will mark the boundary yet keep the area visually open. Some of these garden fence types include traditional picket or pale fence panels, trellis and lattice screens in a variety of heights and widths. Trellis fence panels are often chosen to provide a low-level boundary or add a decorative touch to top an existing fence or wall, and can even create a bespoke outside area. Certain types of decorative garden fence panels can be used to allow flowers or fruits and vegetables to climb up - creating an attractive and practical gardeners' solution.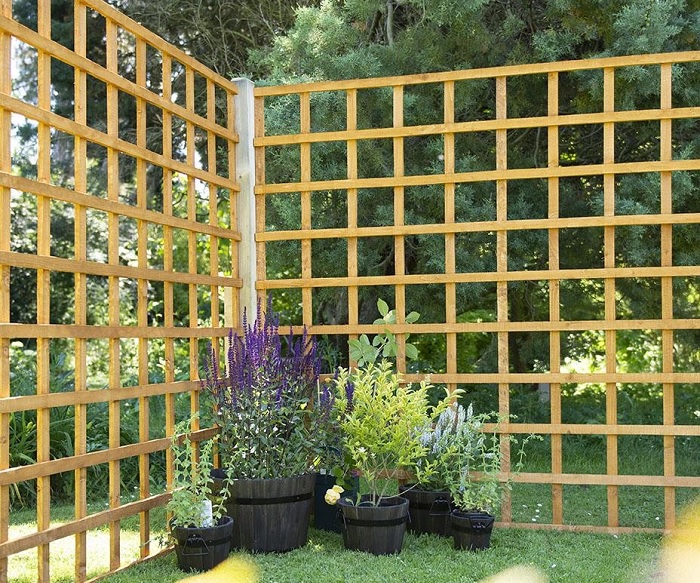 Fence treatments explained
Most wooden fencing is supplied with a factory-applied treatment. The main types are outlined below.

Dip treated fencing
Dip treated fencing has been immersed in a solution containing wood preservative which gives the timber panel a surface protection against rot, fungi and moisture. Whilst many wooden garden fence panels hold a guarantee the effectiveness of this type of treatment is not indefinite, so it's recommended that the panels are re-treated with a suitable panel treatment coating every year or two.
Pressure treated wood
Pressure treated panels go through a process which involves placing the timber into a vacuum to remove the air from the wood and replaced with a preservative treatment. This means the treatment seeps deeper into the cellular structure of the timber to give it longer term protection against fungal rot and decay. Pressure treated panels are therefore likely to last longer than dip treated ones, yet will still benefit from an occasional aftercare application.
Disclaimer: The information contained on this page is intended as an overall introduction and is not intended as specific advice from a qualified professional. Travis Perkins aims to avoid, but accepts no liability, in the case that any information stated is out of date.