Reading time: 4 minutes
The beauty of using loose stone in this way is that it's usually less complex to install than a material such as concrete. This can be done by digging out your pathway, laying down some weed-proof landscaping fabric, and pouring the gravel in. Another benefit of having a gravel walkway is its drainage properties. Because gravel is made up of small stones, it's easy for water to simply pass through, helping to reduce pooling or flooding.
What gravel should I use for a path?
When planning to introduce a gravel path, it's a good idea to use stones that are no larger than 20mm in size, but you can also use 10mm stones for shallow pathways. Smaller stones can sink a little when being walked on, but not significantly.
There's also more choice in gravel colours than you might have thought, especially when you can choose between gravel stones or slate chippings. This offers a good variety of tone and texture that can really add a whole new character to your garden. For example, light coloured stones can be used to highlight a pathway around dark beds and borders. Also, if you have paved or concrete sections in your garden, darker coloured stones or slate chippings can give an elegant contrast.

Gravel path border ideas
Having a simple gravel walkway is one thing, but there are ways to make it far more interesting. Creating borders for your path adds more definition and contrasts, which you can do with different coloured stones, or larger stones and rocks. Adding blocks, partially dug into the ground on either side, is a simple but stylish way of accentuating a walkway.
You can also use railway sleepers, dug into the ground, for an attractive border. If you want to create different effects and features, you can add paving stones on the gravel to level some sections, as well as introduce garden lighting to run alongside the pathway.
Keeping gravel in one place: are gravel grids necessary?
If you have a fairly level garden, you might find gravel will stay put quite easily with little topping up. Pathways on slopes can cause stones to shift, but they can be held in place by gravel grids. These grids hold gravel in sections, reducing movement of the stones, without losing the appearance of the gravel itself.
While it's less important to take these steps on flat ground, it's still worth considering as loose stones can shift over time. You can get missing patches of gravel from being regularly walked on, or from rain and snow. Weather can certainly affect gravel placement, as heavy rain can shift stones, as does snow as it thaws.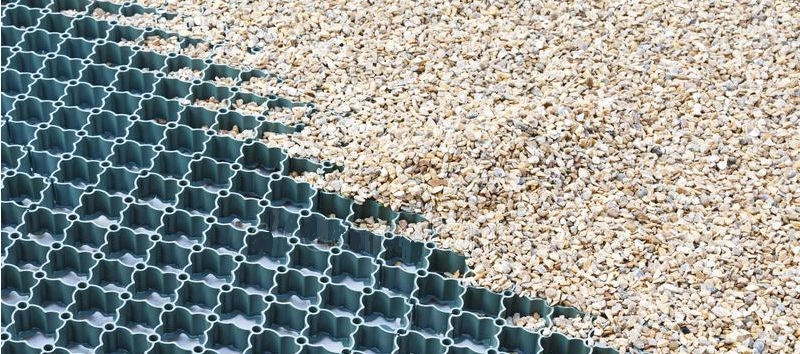 How can I stop weeds growing through a gravel walkway?
We've touched upon adding landscaping fabric to your gravel path, but is it really needed? When it comes to laying down any ground-based garden feature, such as a patio or decking, it's always a good idea to put down a layer of weed control material. While it's not always possible to guarantee you'll never get weeds (they do get everywhere!), having a weed proof layer means less work to keep your path in place. If weeds are left to grow, these can displace the stones leaving unsightly gaps and uneven areas.

There are many ways to make more of a simple gravel path, with a few design ideas you can really make it suited to your style. If you want more gardening advice, we've got more hints and tips available at Trade Corner.
Disclaimer: The information contained on this page is intended as an overall introduction and is not intended as specific advice from a qualified professional. Travis Perkins aims to avoid, but accepts no liability, in the case that any information stated is out of date.