Reading time: 3 minutes
Smart phones and tablets have become more integral to our lives, giving us the ability to manage our environment from the apps at our fingertips. As more technological products through the home have smart features, it's to be expected that this technology goes beyond heating, lighting and kitchen appliances. You can now control your home security this way.
Why install smart home security indoors?
There are several different kinds of home security products that can be installed, from individual devices to whole security systems. For some of us, it may seem like overkill to introduce security technology into the home. However, the control and convenience you have when protecting your property adds another level of security beyond just locks (although we'll come to those too!).
Note, the descriptions of the products below are to show how they work generally. Specific operation may change from product to product.
How do smart locks work?
Having window and door locks in the home are essential, and one of the most basic security measures you can take. But this too is evolving, as your smartphone acts as a key. The idea behind this is to only allow access via a virtual key instead of a physical key. That way you can choose specific people who can have access to your property.
This is particularly useful if you rent out accommodation for tenants who are no longer living at the property, or holidaying guests staying on a temporary basis. You can simply revoke access through the app. The system is designed to limit duplication of physical keys, which can be a potential security risk.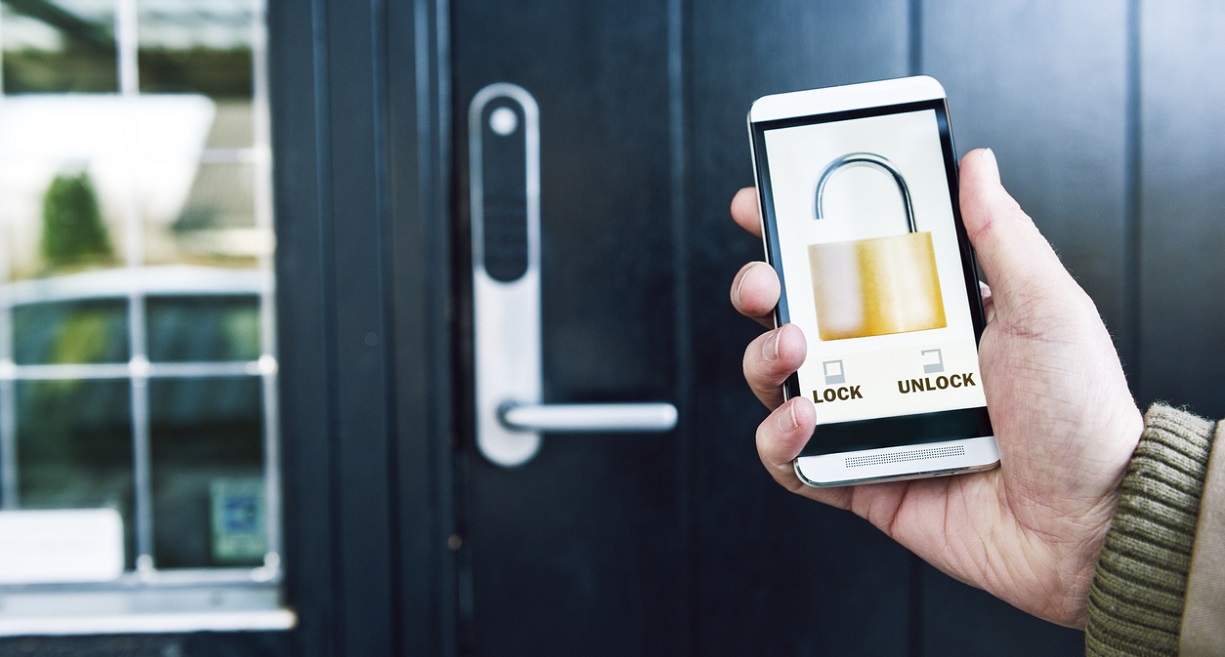 Installing smart security cameras
Perhaps one of the simplest smart security devices to set up, a smart camera works by transmitting video footage that you can keep track of. Depending on the system, you can use the camera's app to either see the footage directly on your phone or download it from the cloud.
The benefit of having an indoor security camera is that you can keep them trained on key 'weak spots', such as doors and windows. That way, if there are attempted break ins (or unfortunately, successful break ins), you don't only have evidence, but also an insight on how the break in was attempted. As distressing and upsetting such an event can be, you can see what happened to be able to take preventative steps to avoid it happening again.
What are smart alarm systems?
While smart security cameras can show you how a break in can take place, or has, a smart alarm system is a more proactive way of alerting you to a break in. Using motion sensors fitted against doors and windows, they will send a notification to your phone, making you aware that someone is attempting to make their way into your property.
As well as smart sensors, these systems are often paired with security cameras too. This shows you what's going on, so you can check on false alarms for peace of mind. For burglary prevention, a home security kit can also be fitted with an alarm to warn off intruders. Other options for security systems include texting assigned numbers automatically and sensitivity settings – always a good idea to prevent pets setting off an alarm!

If you want to know more about home security, or need further advice on home improvements, check back regularly for more at Trade Corner.
Disclaimer: The information contained on this page is intended as an overall introduction and is not intended as specific advice from a qualified professional. Travis Perkins aims to avoid, but accepts no liability, in the case that any information stated is out of date.
Always refer to the manufacturer's guidance and installation instructions.