Reading time: 4 minutes
What is gloss paint used for?
Gloss paint, particularly white gloss paint, is usually used for skirting, doorframes, window frames and architrave. Its finish gives a sheen that's very effective for a clear border from floor to ceiling, as well as around doors and windows, so you have a tidy edge. However, there's a practical reason for using gloss paint in these areas. Gloss is easy to keep clean so, scuffs from boots, dust and dirt can be wiped down without too much effort. And, by using an undercoat or primer, this can help to smooth out some shallow scratches, as can sanding before painting.
There are also variations of gloss to look out for. High-gloss gives a very shiny, almost polished look to a surface, whereas semi-gloss brings the shine down a little more. If there are subtle scratches in wood for example, this less shiny finish can play down these imperfections. Semi-gloss can be used with furniture and kitchen cabinets, refreshing tired finishes to give them a new lease of life.
What is matt emulsion paint used for?
Where gloss paint can be more resistant to scuffs and marks, matt wall paint isn't quite as tough. So why use matt emulsion paint? Because it's not as reflective as gloss when decorating, so the odd bump or mark won't show up quite as obviously. This makes it ideal for walls and especially ceilings, which can be prone to occasional imperfections from things like replacement light fittings, or marks from ceiling decorations.
Satin, eggshell, silk and masonry paints
As we mentioned earlier, paint technologies have helped to create different finishes to match personal taste for décor. This includes paint types such as satin paint, as well as others like eggshell and silk. We might think of these as a 'happy medium' between gloss and matt, but they can have a particular purpose suited to different rooms in the home.
What is the difference between eggshell and satin paint?
Much like gloss, you might find satin paint on skirtings and trims. It has a less shiny finish and adds a more contemporary tone. Eggshell can have a similar finish, so doesn't have the shine of glossier paints and can be closer to a matt. Eggshell is also more hardwearing than other paints, which makes it popular for busy areas such as the walls by stairs and hallways.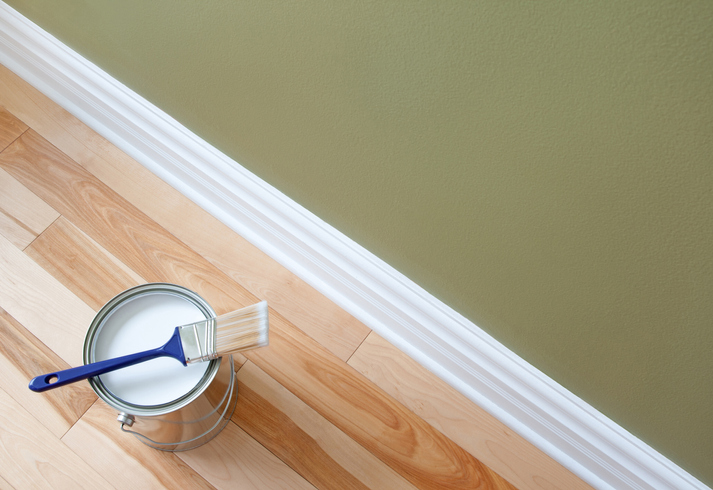 What is silk paint used for?
As eggshell paint is good for specific parts of the home, so is silk paint. Its smooth finish means it has less texture, so moisture can easily run off. This makes it the ideal paint for bathrooms and kitchens. It's also easy to wipe clean, so it can be good if you have small children and often have trouble getting crayon marks off the walls! It's worth pointing out that because this paint has a slight sheen, some imperfections can be more obvious than when using a matt paint.
Can you use masonry paint inside the home?
If your property has exposed internal brickwork, it makes sense to at least seal it, and you can paint over it. While many of us may think that masonry paint is for use on outer walls only, that's not the case. You can use masonry paint indoors if you choose paints that are water-based, and contain no harmful adhesives or other chemicals.

As you can see, there are a lot of options, but you can narrow down some of them by finding the right paint for the right job. Now it's just a matter of finding the right colour! If you're looking for more advice, you can read more among our home inspiration guides.
Disclaimer: The information contained on this page is intended as an overall introduction and is not intended as specific advice from a qualified professional. Travis Perkins aims to avoid, but accepts no liability, in the case that any information stated is out of date.