Reading time: 4 minutes
When looking at buying new radiators, it's clear there's a huge selection to choose from. This can make things seem complicated at first, by answering the following questions it can make your decision a little easier:
What heating system do I have (central heating, electric, dual fuel)?

How large is the room I need to heat?

What is my budget?
These three questions will help you make some initial decisions when choosing new radiators and keep you on the right track.
Heating types: what are your options?
This is the first thing to consider when buying new radiators. How your home is heated will inform you of which kind of radiator you need. If you already have radiators installed, you'll most likely want to replace what you already have. But, if you're looking to have radiators installed and your property hasn't had them before, there might be other options open to you.
How do central heating radiators work?
Central heating is built around a boiler, with a system of pipes that are connected throughout a property. While there are different types of boiler, the principle is essentially the same. The boiler heats up water and a pump pushes this heated water around the pipes, which in turn heat the radiators in different rooms and hallways.
Do electric radiators just plug in?
While the manufacturers of electric radiators might have different guidelines for installation, the principle behind electric radiators is that they will work from being connected to the mains. This can either be directly to mains power, or to a nearby plug socket. Unlike central heating radiators which are filled with water, electric radiators are usually filled with oil or a fluid called glycol, which has the right thermodynamic properties for heating.
What are dual fuel radiators?
Heating and the British weather isn't always a simple matter. Even outside winter months there can still be a time when you need to take the chill off a room. That's where dual fuel radiators come in. These are radiators that are part of a central heating system but have an additional element that runs off electrical power. This means you can heat a radiator independently without drawing hot water from the boiler.
What size of radiator do I need?
Radiators come in various sizes. While the size of the wall space where the radiator will be is a consideration, it's the overall size of the living space that should dictate the size of radiator needed. To do this, you need to work out how much heat the radiator needs to put out.
This is measured in BTUs (British Thermal Units). A specialist installer can help with this, but there are online guides to give a general idea of the BTU output. This BTU figure will be a key indicator of the right size of radiator (or radiators) to go for.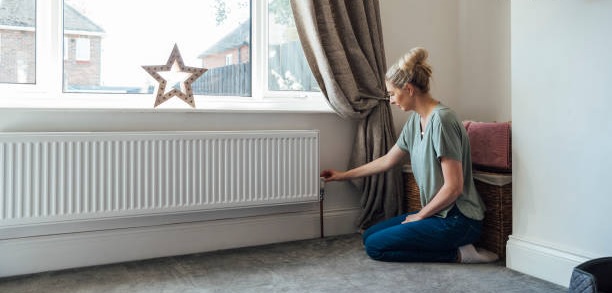 What are the different radiator types?
There are different radiator types and configurations to choose from, including single or double panels (the large, flat part of the radiator), fins (which hold convection tubes for emanating heat) and other types. Here's an overview of the kinds of radiators available.