Reading time: 5 minutes
Work boot types
A decent work boot or shoe should, at the very least, offer a basic safety SBP rating, which includes:
Protective toe cap to protect toes against falling debris or dropped tools

Midsole penetration protection to help protect the sole of the foot against sharp objects, such as nails or screws

Slip-resistant soles
Let's have a closer look at the types of men's and women's safety boots out there and what would be right for the job you need to do.
Work boots with ankle support
Being on your feet all day, in sometimes challenging conditions and on uneven surfaces, can lead to aches and pains in your feet and ankles, with the additional risk of ankle twists and sprains. With ankle boots providing a good level of support, you will benefit from much greater stability.
Benefits of ankle support work boots:
Reduces risk of turning or twisting ankles. Protection against knocks and bumps to ankle bone.
For use when:
Working on slippery surfaces and uneven ground.

What are all-weather boots?
As we all know, the British weather has no respect for deadlines, so when you find yourself on site in relentless rain or falling snow, it's essential to have the right gear for the job to ensure your comfort. In these types of conditions, it's worth considering water-resistant or fully waterproof footwear.
Benefits of all-weather boots:
Prevents rain and snow from seeping in, improved sole grip, extra warmth.
For use when:
Building in more extreme weather conditions.
Do I need insulated work boots?
The cold can be just as uncomfortable as wet conditions. It pays to be prepared for cold snaps, and by having a pair of insulated safety boots you can keep the chill at bay. Your toes will certainly thank you!
Benefits of insulated work boots:
Able to work effectively in colder conditions.
For use when:
Autumn/winter building and when working on colder, draughty sites. These aren't always waterproof, so keep this in mind.
When should I wear lightweight safety boots?
Footwear that has toe and sole protection made from composite materials, as opposed to steel. Lightweight footwear can be particularly beneficial in hot conditions or for those working indoors. In hot weather, it's also worth checking if the product offers a good level of breathability.
Benefits of lightweight safety boots:
Breathable, with improved flexibility.
For use when:
Building in warmer weather, or hot environments, such as kitchens.
Work boot styles - what is the most comfortable safety footwear?
All day comfort is of paramount importance to tradespeople. To achieve the maximum comfort, consider things like the quality and type of insole - some offer a lot more cushioning than others. Consider the materials; are they water resistant, are they breathable, are they flexible? Does the sole possess shock-absorbing qualities? What is the weight of the product? The heavier the product, the more fatigue you will experience. These are all factors worth looking into.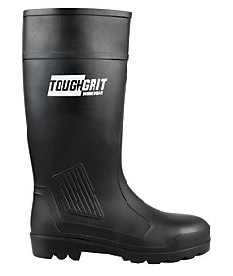 Can I get safety wellington boots?
Yes, there are safety wellington boots with protective toe caps and mid plates. Some of these also have fleece lining to protect against the cold. These make a great wet-weather staple for most contractors, and it's a great idea to keep a pair close at hand for convenience, especially with our unpredictable weather.
Benefits of safety wellies:
Slip-proof and water-resistant.
For use when:
Working on wet, partially flooded sites. Farming, construction.

Should I buy safety trainers?
Again, it's a matter of taste and the conditions in which you're working. PPE and fashion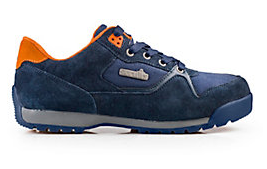 don't always go hand in hand, but nowadays, there are lots of great-looking safety footwear to choose from. Safety trainers can look good, both on and off site, and offer all the important safety benefits, as well as the additional perks of being lightweight and cooler to wear in the Summer.
Benefits of safety trainers:
Lightweight and breathable. Some safety trainers also have anti-bacterial soles or uppers to help reduce odour.
For use when:
Working in warm conditions.

Should I choose safety shoes or boots?
Often it's a matter of personal taste, the conditions you're working in or the level of personal protection you're looking for. While safety shoes have the benefit of being lightweight, and are less bulky and hot to wear in the summer, they offer less with regards to ankle protection and stability.
Most tradespeople tend to have both options so that they can choose depending on the circumstances. However, the two most important things to remember when choosing safety footwear, or any protective gear, are:
1. Never wear second hand boots or shoes. Worn or partially damaged PPE is going to reduce your protection significantly.
2. Always stick to on-site safety guidelines. Protective clothing, shoes, and hardware are only part of the safety measures necessary for looking after yourself and others.
If you want to know more about Personal Protective Equipment (PPE), read our PPE Guide for more information.

We have a full range of footwear and clothing, including jackets and hi-viz items, available to order at Travis Perkins today.
Disclaimer: The information contained on this page is intended as an overall introduction and is not intended as specific advice from a qualified professional. Travis Perkins aims to avoid, but accepts no liability, in the case that any information stated is out of date.