Reading time: 6 minutes
What is a smart security system?
Smart home security is a system of high-tech gadgets that all connect together via wi-fi. These can 'talk' to your smartphone, tablet or PC, using a compatible app, allowing you to control and monitor your home security when you're away (or when you're in!). The types of gadget you can find on the market include: smart cameras and video doorbells.
Many brands have put together bundles you can purchase as a complete package, or you can select individual devices to suit your home security needs and budget.
Types of security cameras for the home
Knowing your home is secure whilst you're away is a priceless asset, and smart security cameras allow you to monitor your home from the convenience of your smartphone.
When you think about what sort of home security you're looking for there are cameras for indoor and outdoor use. A majority of home security cameras will have motion and/or sound detectors that will send you an alert when something suspicious occurs - they can also take a number of snapshots over a certain period of time, or you can set your gadget to continuously record.

There are several types of indoor home security cameras on the market, and whilst a lot of them will advertise themselves as 'wireless' this doesn't necessarily mean that they are wire free. This just means that the camera can operate and record any footage via a wi-fi network connection and use cloud storage, rather than using a lead connected to your recording device; these types will still need to be plugged into an electrical supply.
There are battery-operated options out there, which can be fixed to a wall or ceiling free of wires, you will just need to keep checking and replacing/recharging the batteries.

You may want to consider where your home security footage is being stored - via a cloud-based application or internal storage with SD card.
While cloud storage is a convenient way to store your security footage, there will be a limit to the amount you can store for free, so the only way to increase this limit is to subscribe to the hosting company for a monthly fee. There is always a choice of subscriptions on offer, so you should find options to suit your budget. Alternatively, there are cameras that have internal storage, using an SD or memory card. This type of storage might be more economical, but if your home security device is stolen the footage goes along with it.
Benefits of video doorbells
Smart video doorbells add an extra level of security to your home - letting you know when someone is approaching, and who's actually there. They also give you the convenience of interacting with your visitor with two-way audio. So whether you're busy upstairs or pottering in the garden, you can answer the door without having to move, thanks to the instant alert directly to your phone, tablet or PC.
Below we outline the top benefits of installing a video doorbell, giving you a quick at-a-glance breakdown: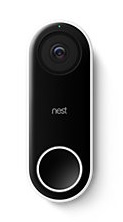 Using an in-built motion detector, the video doorbell allows you to view who's approaching your front door - someone you want to see or an unexpected visitor!
These can work alongside a smart home security system giving you all-round security and peace of mind. Depending on the type of smart doorbell you choose, you can expect a majority of them to offer 24/7 video streaming, recording and photo capture.
If you are away from home and want to give the illusion that you're present, the two-way intercom will let you speak to whoever is there. Some smart doorbells allow you to pre-record messages which you can play to your visitors. Having a speaker on your doorbell helps to deter unwanted visitors too.
Get clear imagery and sharp details with High Definition (HD) resolution, and High Dynamic Range (HDR) gives you a clear picture in the dark as well as bright light.
Top security system features to look out for

Most smart technology can be controlled via your smartphone, so checking what operating system your phone runs off may depend on what apps and devices are best for you.
If you choose a whole system for your home, remember that each device will need to be able to 'talk' to each other. So, depending on the size of your home it's worth checking the wi-fi range to help you decide.
Even if your visitor doesn't knock on your door or ring the bell, anyone snooping around will be detected and captured.
One-way audio allows you to record the sound from inside or outside your home (depending on where you're looking to install your home security cameras). Two-way audio lets you communicate with your visitors.
Not all smart home security products have this feature, so it's a benefit to look out for. It's said that the sound of an alarm outside your property will deter burglars.
Many smart products will be mains operated but some are battery powered. Should you have a power cut or accidentally unplug your device - a back-up battery will kick in, to keep your mind at ease.
One to look out for if you're thinking to mix and match your products from different brands. Some gadgets only work with same-brand devices and others, using the same network system, will be able to work together.
Different systems offer differing qualities in resolution so the higher the resolution the better quality image or recording. HD would be ideal for best results.
Most home security cameras use infrared (IR) LED lights to give you a clear and detailed picture when transitioning between day and night.
You'll find a whole host of smart products to help keep your home and family safe at Travis Perkins. As well as smart security for the home, you can also browse heating controls, lighting and smart safety to complete the package.