Can you soundproof a roof?
Even if you're not planning a full loft conversion, sometimes soundproofing a roof can be a good idea. Heavy rain, hail and strong winds can create a lot of noise in a property, and sometimes the sound from traffic or loud neighbours can come in through the roof. This can be minimised with soundproofing, helping to turn a loft or attic into somewhere more hospitable.
Although it's possible to do so, soundproofing a sloped roof presents certain challenges. While walls and floors can be soundproofed fairly simply, which we'll come on to, a slope, or flat roof takes a little more effort. The most important thing to consider is the use of acoustic insulation boards. Other forms of insulation like rolls can be hard to manage, so using insulation boards is the most practical solution. These can be fitted to wooden battens that're attached to the beams in the loft, creating a stable way of fixing panels closely together. Then, with help, they can be fixed directly to the batten overhead, or on an angle.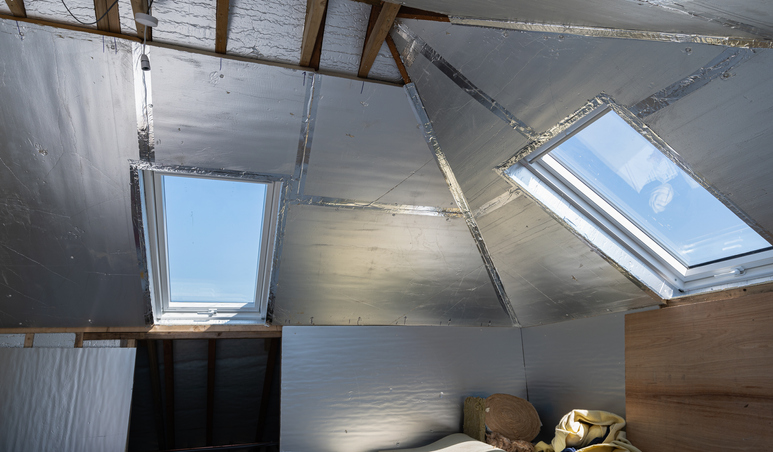 Soundproof loft wall insulation
For vertical walls, there are more options for soundproofing insulation. As we've already covered, insulating panels are a convenient way of ensuring a uniform finish that can be plastered or papered. But behind these panels you can add another layer of insulation slabs. Acoustic insulation slabs add a dense, thick barrier between the loft and the outside walls that can really help to mute noise from outside.
Soundproofing a loft conversion floor
Insulating the floor of a loft or attic is a good idea anyway, and in most modern homes there's probably thermal insulation roll already laid down. However, the addition of acoustic insulation can help to keep noise levels down from other floors in the house, as well as footsteps in the loft itself when flooring is laid. Insulation roll is made for laying between the joists in the loft floor. Alternatively, if the insulation board is designed to take the weight of people and furniture, you can use it as the flooring for a flat, even surface over insulation roll.

As more of us are adapting unused spaces in the home for work, or even just opening up more rooms for extra living space. If you're working on home improvements too, you'll find help and inspiration with our home maintenance advice. Check back for updates!
Disclaimer: The information contained on this page is intended as an overall introduction and is not intended as specific advice from a qualified professional. Travis Perkins aims to avoid, but accepts no liability, in the case that any information stated is out of date.
Always refer to the manufacturer's guidance for installation instructions and product maintenance.