What is composite decking?
Wood Plastic Composite (WPC) decking has made a big impact in the landscaping arena. It can be used in home gardens, as well commercial settings, and is an eco-friendly alternative to wooden decking boards boasting a much longer life.
What is composite decking made of?
This type of deck board is made up of 95% recycled plastic and wood flour - it is this mix that makes it strong, hard wearing and rot resistant - not to mention environmentally friendly.
Why choose composite over traditional timber?
Composite deck boards are considered stronger than timber planks because of their innovative construction, which gives them a longer life span. Timber will suffer damage from the elements over time, unlike the composite material that won't warp, splinter or rot - making it comfortable under bare feet too.
All of our WPC decking is made up of recycled materials. So, you can be safe in the knowledge that you're helping to reduce the carbon footprint whilst creating a stand-out feature using a sustainable product.
Being virtually maintenance free, you won't need to continually re-stain or varnish, and will benefit from an occasional wipe down with warm soapy water, to keep it looking like new. And, with the added benefit of UV stabilisers this type of decking is less likely to fade and deteriorate.
You'll find a range of colour options to choose from and a choice of finishes - from ribbed, grooved and natural wood grain effect, so you can complement a whole range of design themes - from a rustic oak to the industrial-inspired slate grey.
How do you cut composite decking boards?
You don't need any specialist equipment or tools to install this type of decking. You can cut composite deck boards with standard woodworking tools e.g. circular saw and cross mitre.
What's the difference between the different types of composite deck?
Each brand will have their own unique selling point, along with the product's benefits and features, but it can be difficult to know the difference between them all and make a discerned choice on a relatively new product. Below is a brief outline of each make we have available, along with key features - hopefully making the decision a little easier.
This dual-sided composite decking features a natural wood grain with two colour options in one - giving you the freedom to be creative with your decking design. The 'capped' outer layer creates a protective barrier to help protect against fading and weathering, ensuring a long life. The hollow construction makes this board lightweight and helps with heat absorption. These boards are secured with end clips, which are then screwed in place - this gives you a seamless finish with no fixings on show.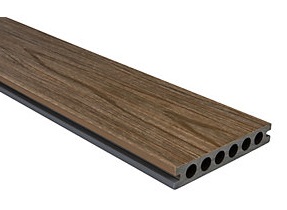 The HD Deck XS board has a contemporary ribbed design available in a range of popular on-trend colours that will fit into any garden design. There is no need for screws with this composite decking board thanks to the hidden-clip system, giving you a clean professional finish. The hollow construction of this decking allows for better heat absorption and reduced weight.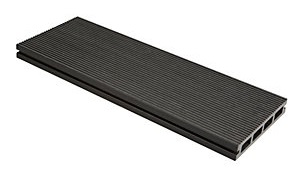 The HD Deck Dual and XS versions have these key benefits:
Eco-friendly

Low maintenance

Anti-fungal properties

Won't warp, bend or splinter

Slip resistant

Suitable for residential and commercial use
This version of the HD XS decking boards offer class B fire rating that is ideal for the construction industry, giving peace of mind to anyone installing balconies, verandahs and roof terraces, as well as garden and landscaping applications. As with the other Composite prime products these boards use a hidden-clip system for a sleek installation and a hollow construction, meaning it's lightweight with greater heat absorption.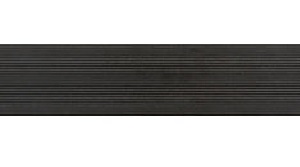 Class B fire rated

Eco-friendly

Low maintenance

Anti-fungal properties

Won't warp, bend or splinter

Slip resistant

Suitable for residential and commercial use

Lightweight, hollow construction
For Composite Prime decking products (excluding accessories e.g. clips etc.) you should register the guarantee via their website to be covered. Below you will find the details of warranties that apply:
Residential: HD Deck® XS - 10 years from the date of purchase • HD Deck® Dual - 25 years from the date of purchase.
Commercial: HD Deck® XS - 5 years from the date of purchase. • HD Deck® Dual - 10 years from the date of purchase.

Habitat Wood Composite Decking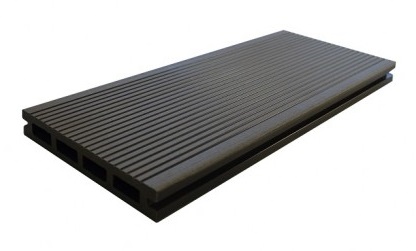 Habitat Wood Composite decking boards have a hollow construction making them lightweight and quick and easy to install. These deck planks are reversible with narrow grooves on one side and an embossed wood grain effect on the other. The hidden fixing clips ensure a smooth surface that's comfortable under bare feet.
10-year guarantee

Reversible design

Low maintenance

Won't warp, splinter or rot

Eco-friendly

Quick and easy fit

Lightweight, hollow construction