Driveway Design Ideas
We've gone through the top types of driveway surfaces, so now we take a look at some driveway ideas to help you create a look that best suits your style of property and space available.
Get creative - choosing a multi-coloured palette will give individual personality to your space and give the front of your home a fresh look. Block paving in particular will give you a wide choice of colours with the added option of adding shapes such as circular details.


Minimalist monochrome - as there are more contemporary options coming on to the market, choosing long bricks in a variety of greys will enhance a minimalist style whilst adding subtle sophistication.


Light the way - you could install recessed lighting in to the driveway itself - especially in darker areas. This will lend a guiding light all the way to your property and give it a unique ambiance. Be sure to use lighting suitable for outdoor use!


Stark contrast - think about making a bold statement by using a colour on your driveway that is the opposite of your property - a bold dark driveway will beautifully offset a light-coloured building.


Keep it simple - if you have a smaller space to utilise, a less fussy approach will work wonders and be less of a distraction against the front of your home. Using a simple, sleek design will not overshadow your dwelling.


Border detail - no matter the size or your driveway you can easily add some detail to liven up your area. If you're working with a smaller space you could add a simple, narrow border in a complementing colour around the edging - giving the appearance of a clean open space.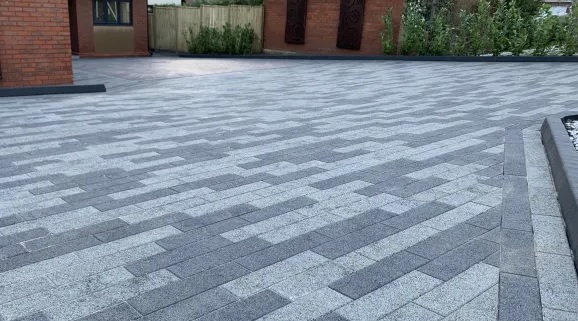 How can I update my driveway?
A good clean - a pressure washer could work wonders on a concrete or block-paved driveway - giving it a refreshed lease of life for a relatively small amount of work


Repair or replace - you might be wondering 'How do I fix cracks in my driveway?'. Concrete driveways could be re-filled in with some fresh concrete to, at least, reduce their appearance in the short term. If you have broken bricks in your paved driveway, these should be quick and easy to remove and replace - instantly making it look as good as new.


Decorative edging - to lift a tired-looking space, you could think about adding a decorative edge to your drive. This could be done by adding a decorative curb round the parameter, or using a brick in a different colour to give the look of a border. Or why not install timber sleepers for a rustic driveway in a rural setting.


Get planting - depending on how much space you have available, and if you have any available turf surrounding your drive, you could add some eye-catching colour to really brighten up your outside space by planting flowers or shrubs to either side. To give visitors a more dramatic welcome to your home, if space permits, small to medium-sized evergreens such as cypress or conifer trees, will give a certain opulence and grandeur to your entrance.


Top-up your gravel - if you have a gravel driveway you can keep on top of it by making sure you don't get dips and uneven areas. You can rake the stones across high-use areas to fill in any pot holes, or you could just add another layer of gravel if the stones have started to disperse beyond reclaim.
How to update an asphalt driveway
If your asphalt driveway has had a lot of use and is looking tired with certain areas looking particularly worn, you can hire a professional to apply a levelling course to the whole area. This type of driveway resurfacing consists of a thin layer of tarmac, to level out the area, and a finishing coat applied on top. There is always the option of removing the old asphalt and replacing it - this will come at a cost but will be a long-lasting solution.

You also have the option to fill in a pothole and repair your driveway yourself. Using a cold lay macadam, which is a ready-to-use packed asphalt and is a cost-effective way to quickly repair your driveway.
How to make a concrete driveway look good
Concrete driveways are relatively easy to maintain, just needing the occasional wash down and keeping an eye on any mischievous weeds that may creep through any small cracks. But there can be more challenging debris to contend with other than the usual dirt and grime - oil spills!

The ease of removing oil from concrete will depend on how long the grease has been present, so it may take a little more work to remove than that of a recent spill. Below are some options for you to consider:

A standard approach is to use a scrubbing brush and strong detergent that dissolves grease

For ground in stubborn oil stains you could use a specialist industrial concrete degreaser cleaning fluid

Try using a specialist poultice for removing oil stains by drawing out the oil from the concrete. This may take some time as the application will need to be left to take effect, but it's another option to try
If you choose to use a pressure washer on your concrete driveway, it's always advisable to read the manufacturer's instructions for use on concrete first - too high a pressure may damage the surface.
Add some greenery
If you have an expanse of concrete that looks a bit grey and uninviting, you could place plants in decorative pots of varying sizes around your outside space. Potted plants will add interest and colour to your driveway - why not think about using pollinating plants to attract insects...
Pattern Imprinted Concrete - what is it?
If you're looking to resurface your concrete driveway, you could consider pattern imprinted concrete. This is a technique that involves stamping patterned moulds into a concrete mixture known as fibrecrete. Colours can be added to mimic slate, cobblestones, block paving, flag stones and more - this will enhance a realistic appearance. As fibrecrete contains small fibres, the durable surface is said to be upto 30% stronger than that of standard concrete, giving a much longer life span. This decorative technique can also be used on patio areas too!
How long do resin driveways last?
When a permeable resin-bound driveway is installed correctly by a trained professional, they can last up to 25 years - although different manufacturer's guarantees will vary. And what's more is that this type of surface won't react to differing weather conditions - it doesn't freeze and crack in winter, or become sticky in the warmer months.
What are the benefits of a resin driveway?

Decorative and visually appealing

SuDS compliant (Sustainable Drainage Systems) - environmental drainage systems that allow rainfall to naturally disperse in to the ground before reaching watercourses and helps to reduce the risk of flash flooding

Durable and very hardwearing

Easy to maintain

Reduces standing water, so no puddles!

Long lasting
Do I need drainage for my driveway?
Any new driveway that measures more than 5 meters squared must have a drainage system that will allow water to drain through a permeable surface - if you don't have this then planning permission will need to be sought. As mentioned earlier in this article, it's a good idea to seek advice from your local planning authority for guidance.

The reason for the Permeable of Front Gardens legislation is to help reduce the effects of flooding and, as the UK sees a lot of rainfall with flooding becoming more rife around the country, taking small steps to do our bit in helping reduce the risk of flash flooding is an important factor to think about when planning a new driveway.

We hope this informative guide has been useful in giving you some tips and ideas on how to update your driveway. Browse our substantial range of driveway products - from decorative stones to permeable paving and driveway project packs. Find what you need at Travis Perkins to start your driveway project.
Disclaimer: The information contained on this page is intended as an overall introduction and is not intended as specific advice from a qualified professional. Travis Perkins aims to avoid, but accepts no liability, in the case that any information stated is out of date.
Always refer to the manufacturer's guidance for installation instructions and product maintenance.