What are the different types of skirting and architrave?
We've covered the practical side of why we have skirting and architrave, and that they're also decorative. So it stands to reason that if there's a decorative finish to a home, it will come in various different versions to suit personal taste or décor of the home. These different styles are called the profile, each having a distinctive shape.
Different skirting and architrave profiles include:
Ogee profile – there's an almost classical style to ogee profile skirting and architrave, with a double groove at the top half for a pleasing detail.

Torus profile – similar to ogee skirting, torus boards have single groove detail and bevelled edge profile.

Bullnose profile – simpler than the ogee or torus profiles, the bullnose profile is a simple, slightly rounded edge board that works well in modern and contemporary homes.

Chamfered – like bullnose skirting and architrave, a chamfered profile is simple, but bows out slightly, creating a distinctive shape.

Ovolo – the ovolo profile has a slight curve at the edge of the board, which leads to a shallow step, creating a very subtle type of decoration.

Lamb's tongue – similar to ovolo, but the rounded edge leads to a step that's further down the board, and a little more pronounced than ovolo.
Other decorative styles exist, which are usually dictated by the property they're installed in. Variations can range from more ornate Victorian skirting boards and architrave styles through to other periods such as the Art Deco movement.
But this isn't the full picture. You'll find a wide variety of skirting and architrave that can be found in different thicknesses and lengths or colours and tones. You can order both primed and unprimed finishes too, so you can make the decision for how you want the finish to look. Essentially, there's enough choice to suit personal taste, budget, practicality, or the style of the property.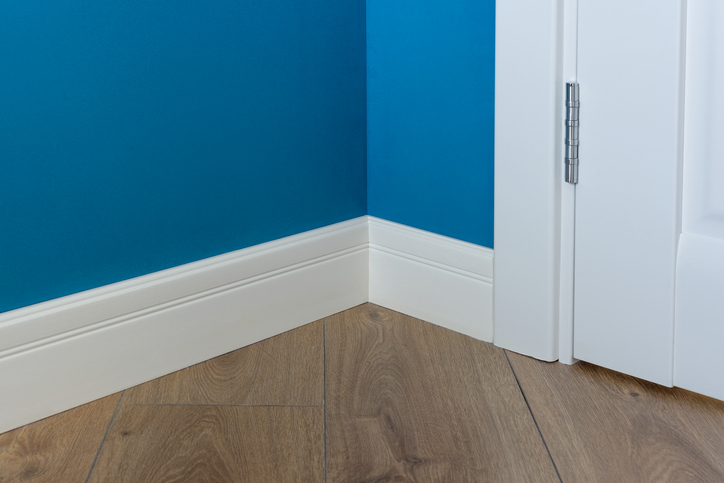 Should skirting match architrave?
For a consistent look throughout, matching styles between skirting and architrave is usually the best way to go. If, as a homeowner, you would feel that having a change in profile style between the skirting and architrave would be jarring, or just annoying, of course keep the style throughout.
However, keeping the continuity shouldn't be a solid rule, as creativity needs flexibility, which most profiles allow. Having a more decorative architrave against a plain style skirting board is certainly not an unusual thing to do, and can really highlight an ornate architrave, for example. You'll find some styles will suit more than others, so it's worth giving this a thought or consulting with a professional fitter.
That said, the most important thing to match is colour and tone. If you're keeping natural wood tones for skirting, these should match the architrave and vice-verse. Otherwise, it will be important to paint both the same colour. Another thing to consider is the width of both the architrave and skirting, as this can clash as much as a mismatched tone. Matching the widths makes more sense to the eye without 'throwing off' the look of the room.
What's the difference between a doorframe and an architrave?
When installing a door, the door frame or casing is the solid surround, often made of timber, that holds hinges and other door fittings. Essentially, it's the main support for the door. Architrave, which is also referred to moulding, acts in a similar way to skirting as it finishes off the gaps and edges, without providing support as it's not designed for the 'heavy lifting'.
That's why on the surface it seems architrave, and skirting, seem purely cosmetic, there are a lot of things to consider when making your choice. We hope this has helped, and have more interior and exterior door inspiration and advice for you to explore.
Disclaimer: The information contained on this page is intended as an overall introduction and is not intended as specific advice from a qualified professional. Travis Perkins aims to avoid, but accepts no liability, in the case that any information stated is out of date.
Always refer to the manufacturer's guidance for installation instructions and product maintenance.