The environment, going green and reducing the carbon footprint are all topics we hear often in the news, and it's quite likely that you've heard mention of the Green Homes Grant. This guide will give you insight as to what it is and what it means for you.
Green Homes Grant March 2021 update
The Government announced today (Monday 29th March 2021) that the scheme to update peoples homes with energy-efficient improvements is to be scrapped on the 31st March 2021. You can find out more details in our Green Homes Grant Update.
Green Homes Grant extended until 2022
On Wednesday 18th November 2020, the Government announced an extension to the Green Homes Grant Voucher Scheme. This will give homeowners and installers more time to complete any energy efficient upgrades. The new deadline for completing any such works is now 31st March 2022.
With the original date of 31st march 2021, the extra year will help give tradespeople the much needed additional time to register with TrustMark, acquire any relevant certifications, register as an accredited installer via the Government's website, and complete all works to homes and public buildings across England.

I'm a homeowner, what changes affect me?
Whilst there are no changes to the way you apply for the vouchers or obtain quotes, you will have more time in getting any chosen updates done to your home.
I'm a tradesperson, what changes affect me?
As with the homeowners, there are no official changes to the way you go about registering to become an accredited installer, provide quotes to your customers and so on.
The additional year will allow a reasonable amount of time to get all of the necessary accreditations and certifications you need, to be eligible to carry out these improvements. You will also have more time to actually complete the job.
Can building work be carried out during coronavirus restrictions?
Under the National Restriction from November 5th 2020, installers can still work in people's homes and must follow the COVID-19 secure guidelines.
What is the Green Homes Grant Scheme?
In early July 2020, Chancellor Rishi Sunak outlined a new Government scheme called The Green Homes Grant. This will give homeowners across England the chance to apply online for vouchers worth up to £5,000, which they can give to their chosen tradesperson to buy the materials needed. Whilst low-income households can claim 100% of the improvements cost, up to a maximum of £10,000. The scheme will give over 650,000 eligible homeowners the opportunity to make energy-efficient home improvements, and help cut energy bills - saving hundreds of pounds each year.
"The Green Homes Grant is a vital part of our plan for jobs as we secure the UK's economic recovery from coronavirus. This is going to be a green recovery with concern for our environment at its heart."
"It will help to protect and create jobs, while also saving people money and cutting carbon." said Rishi Sunak, Chancellor of the Exchequer
What type of installations does this scheme cover?
The diagram below shows you the different types of installation and where they may fit in your home.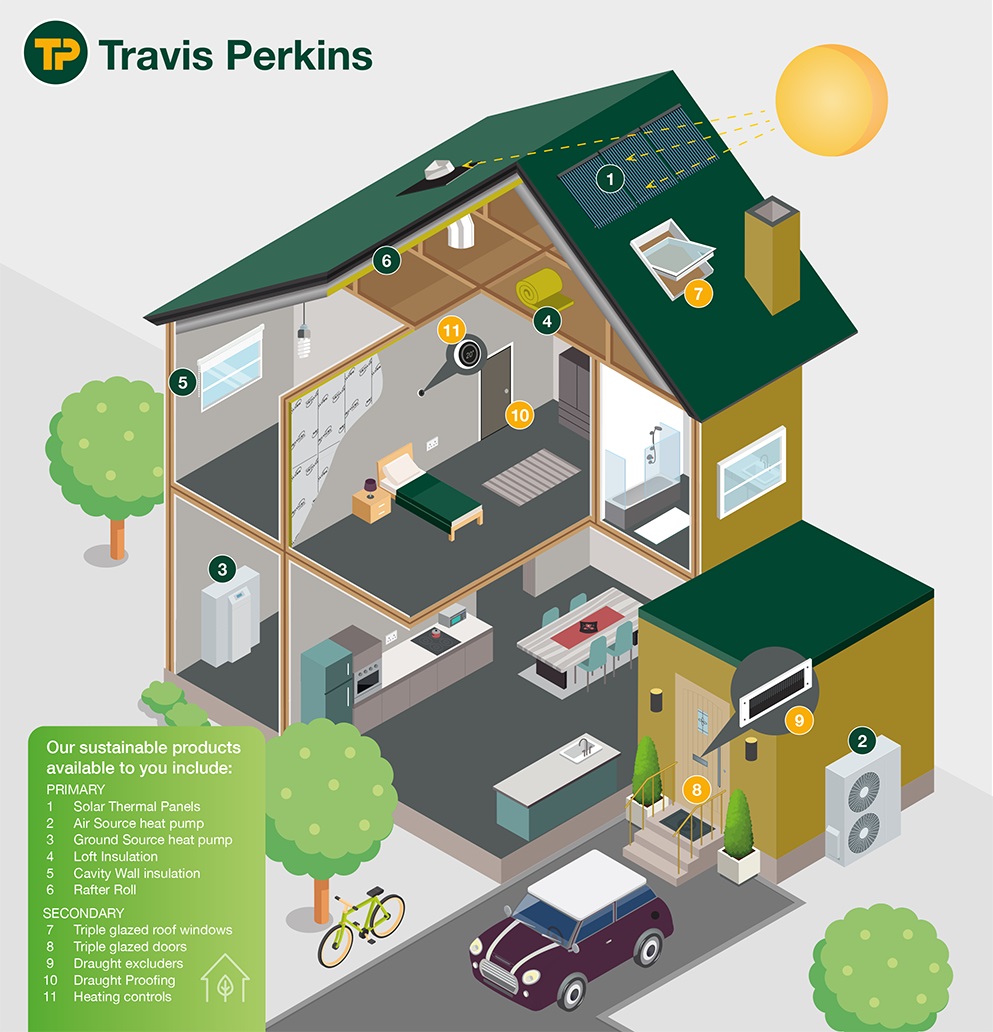 Find out more information by clicking the below