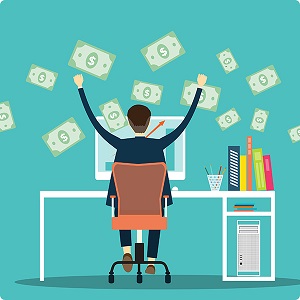 How to promote your business online
Whether you're an e-expert or a complete internet novice, the internet is a brilliant and cost-effective tool for generating new business and getting your services out there. The vast majority of adults in the UK are frequent internet users – and many of them are using it to search for tradespeople. A few simple tactics can help you cash-in on this opportunity, building your business and maximising ROI – read on to find out how you can increase your income and make sure you'll be fully booked for the foreseeable future.
Should I have a website?
Simply put, if you want more business you'll need a website. It doesn't have to be complicated or costly - all singing and dancing websites are often expensive - just a few essentials will help your trade business immensely. There are a number of website creation platforms where you can create your own website free of charge.

Why do I need to be at the top of Google search results?
One of the main reasons for having a business website is Search Engine Optimisation (SEO). You may have heard this term before, if you haven't, it's just another way of saying 'getting to the top of Google'. And why do you need to be at the top of Google? Think back to the last time you needed to find a website, book a restaurant or movie, or just needed an answer to a question – what did you do?
Reportedly, 3.5 billion Google searches are made every day, which includes loads of potential customers looking for help. In the UK, the term 'local tradesman' is searched roughly 2,400 times a month. That's 2,400 potential jobs – and if your website is in the top 3 for those types of terms, it's easy to presume a lot of those customers will be getting in touch for a quote.

What about a blog?
A website is a great way to show off your work and skills – creating a portfolio / case study blog requires minimal effort to update and shows potential customers the scope of jobs you can do, your experience, the quality of your work and that you take pride in completing your projects.

Getting in touch
Customers also need an easy way to get in touch or request a quote – with technology updates and the rise of texting, a lot of people prefer to avoid making phone calls – especially when requesting a quote, as they'll want to avoid being stuck on the phone with someone who in their opinion may try to push them into a sale. An online contact form makes it much easier for potential customers to request a quote from you – plus it will send it straight to your inbox – so you can price up the job and get back to them. Just make sure the form is clear, easy to find, quick to fill out, and doesn't request too much personal information.

The power of reviews
Word-of-mouth is crucial to the success of small businesses (and in this industry, positive reviews are worth their weight in gold). Customers are much more likely to buy a product or service if they've seen positive, unbiased reviews. By featuring reviews on your website you'll make yourself look much more credible and trustworthy, making potential customers much more likely to request a quote.

I don't have the time or budget for a full website
Luckily, Google provides a free and easy to use, basic website builder that anyone of any internet skill level can use. Just visit this website to get started.

How can Google benefit my business?
Google has put a lot of effort into helping small businesses grow their presence online and has a wealth of features for you to use. A Google My Business account allows you to alter the information that Google shows about your business.
When someone uses Google to search for you – your business will appear as a card and includes loads of useful information, like your business hours, news, website link, reviews, location, photos and an easy way for them to call you from their phone (without having to type in your number) – and you can easily edit all of this information yourself. To set up a My Business account, click here and follow the instructions (all you need is your business name and a few details).

Online directories
Registering with online trade directories provides another way to boost your business's online visibility. These listings are often used by customers to find reliable tradespeople in their local area. The results show reviews, ratings and contact details. They're incredibly easy to set up, and many are free – you can register for as many as you like for maximum coverage. See some of the most popular below:
- Trust a trader
- Rated People
- Checkatrade
- Which? Trusted Traders
- Builders and Tradesmen

Should my business be on social media?
Social media is one of the most dominant and fast-growing areas of the internet. In the first quarter of 2018, Facebook alone had 2.19 billion monthly active users. Now, we're not saying that setting up a business page on Facebook will have all 2 billion getting in touch with their projects – but it does show that almost everyone on the planet is on social media – so it's a great way to get in front of potential customers.
But what would I post?
If you don't think you have anything interesting to post, think again. There's an audience for almost all types of content on social media, you just need to make sure you match the content you're posting to the platform you're posting from, and the people you're targeting.
Instagram is photo-oriented, so you should aim for eye catching, interesting and funny photos and look for popular hashtags to get your posts out there. Instagram is full of people looking for design and building inspiration for their homes, so posting before and after photos of jobs you've completed will draw interest in your work.
X, forerly known as Twitter, did have a character limit of 280 characters, but from 8 February 2023, it was announced that Twitter Blue users can create a post with a maximum of 4000 characters, and is best for relatively short, image-driven posts. Facebook on the other hand, has no character limit – so is the perfect place for posting longer case study posts.
Social media provides another way for people to get in touch, so don't forget to respond quickly to your enquiries. Make sure you keep an eye on your accounts and are always quick to reply, as this will make you appear more reliable.
It also provides an easy way for people to leave reviews – even bad ones. Keep an eye out for negative comments and reviews, if you receive one, don't panic or get defensive. In these cases, it's how you respond that potential customers will pay more attention to. So, respond quickly and professionally, and if there has been a problem, apologise and ask how you can rectify the situation. As long as others can see that you've responded quickly and in a respectful and friendly manner – they'll be more confident that they can trust you.
Disclaimer: The information contained on this page is intended as an overall introduction and is not intended as specific advice from a qualified professional. Travis Perkins aims to avoid, but accepts no liability, in the case that any information stated is out of date.